Autism Acceptance Month: Harding's Friendly Markets Fundraiser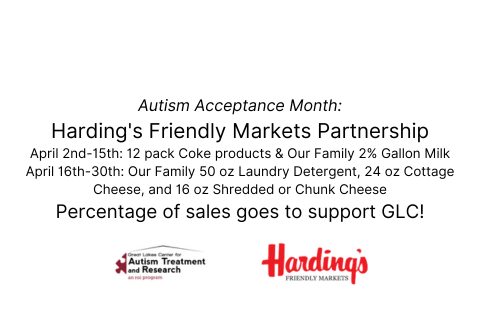 During the month of April, our friends at Harding's Friendly Markets generously partner with ROI to raise funds for the Great Lakes Center for Autism Treatment and Research (GLC) via their in-store product promotions.  Harding's Friendly Markets have secured commitments from select vendors to join this year's fundraiser by donating a percentage of their sales to GLC.
The featured products for the month are:
April 2nd to 15th: 
12-pack Coke Products (all varieties)
Our Family 2% Gallon Milk
April 16th to 30th:
Our Family 50 oz Laundry Detergent
Our Family 24 oz Cottage Cheese
Our Family 16 oz Shredded or Chunk Cheese
All Harding's Friendly Market store locations are participating in this campaign.  Our thanks go out to Harding's Friendly Markets for this continued partnership!