Harding's Friendly Markets Support Great Lakes During April – Autism Acceptance Month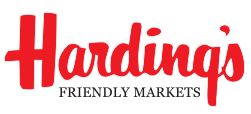 During the month of April, our friends at Harding's Friendly Markets will generously partner with ROI to raise funds for the Great Lakes Center for Autism Treatment and Research (GLC) via their in-store product promotions. Harding's Friendly Markets have secured commitments from select vendors to join this year's fundraiser by donating a percentage of their sales to GLC. The products (on sale during the specified week) being featured during the month of April are:
Week of April 3 – Coke 2 Liters

(all varieties)

Week of April 10

–

Country Fresh Premium Ice Cream

(48oz)

Week of April 17 –

Dairy Fresh Cheese

Week of April 24 –

Jays Potato Chips
Please share this information with friends and family! Help support the campaign by purchasing these products during their featured week. 
All Harding's Friendly Market store locations are participating in this campaign.
Our thanks go out to Harding's Friendly Markets for this continued partnership!