Michigan Autism Conference Sponsored by GLC and ROI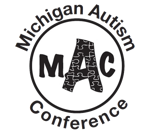 The Michigan Autism Conference is October 6th – 7th, 2022 at the Radisson Plaza Hotel in Kalamazoo, Michigan.
Once again, the MAC has offered a limited number of Caregiver Scholarships to cover the conference registration fee for a single conference attendee. 
The mission of the Michigan Autism Conference is to disseminate information and training on scientifically-validated, behaviorally-based treatments to parents and professionals who work with individuals with autism spectrum disorder, and to promote awareness and training of closely related conceptual, scientific, and ethical issues. This mission aims to increase functional skill development and decrease behavioral excesses to ensure individuals with autism can live enriched high-quality lives. As such, the Michigan Autism Conference is dedicated to providing families, practitioners, and researchers with information on a variety of topics related to the assessment and treatment of those affected by Autism.
Online registration will close on September 23, 2022. Full refunds will be offered through August 19, 2022. Between August 19, and September 23, half of the registration fee will be refunded. No refunds will be offered for cancellations received after September 23, 2022.
Keynote Speakers
Dr. Tiffany Kodak
Dr. Janet Twyman
Dr. Henry Schlinger
Dr. Heather McGee
Dr. Mary Jane Weiss
Dr. Shane Spiker
Workshops
Adam Hockman
Jonathan Amey
Dr. Denice Rios
Dr. Rebecca Eldridge
Drs. Heather McGee & Katie Garza
Dr. Patrick McGreevy
Dr. Renee Van Norman
Dr. Rick Kubina