Michigan Autism Conference Sponsored by GLC and ROI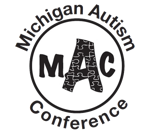 Save the date for the Michigan Autism Conference which will take place October 8th-9th, 2020.
The MAC is offering a limited number of Caregiver Scholarships to cover the conference registration fee for a single conference attendee. For more information, please download the MAC Caregiver Scholarship Application here.
***Please note that the deadline for the scholarship has been extended to 9/29/20.
For more information visit: the Michigan Autism Conference